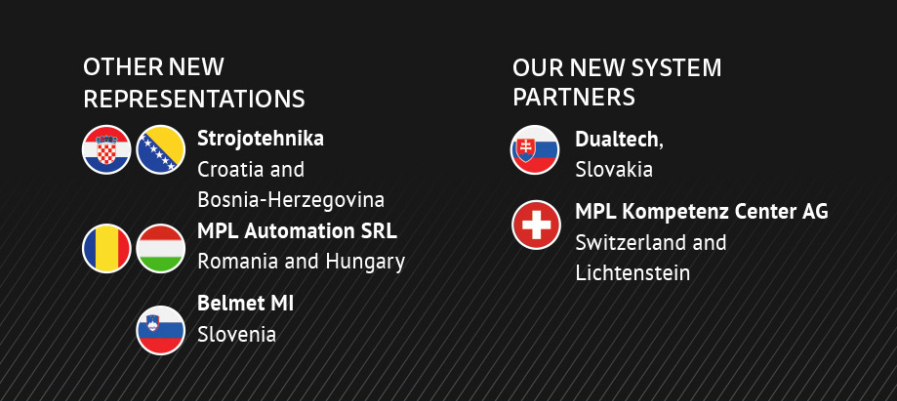 Expansion of existing partnerships and acquisition of new sales agencies
If you want to be successful, you have to be prepared to cross borders. This is exactly what we do – in the truest sense of the word. We are on the lookout worldwide for new partners who can help us stay close to our customers and handle international orders perfectly. And that this search is very successful is shown by an overview of our current sales partners. And you can be sure: The search goes on!
MMT
Czech Republic
MMT, based in Jablonec nad Nisou, has many years of experience in the development and manufacture of special machines. MMT offers its services to a wide range of customers from various industries, such as automotive, electronics, food and pharmaceutical. As one of the few companies in the Czech Republic, MMT is able to manufacture large fully automated lines capable of assembling products from more than 20 parts.
Facort
Portugal
Facort is a well-known company in Portugal for customers in the engineering industry, including the automotive industry, which manufactures and machines components. As part of its growth policy, Facort is supplementing and strengthening its sales division, where the company is rounding out its range of products for the mechanical and plant engineering sector with Paletti profile systems. In order to more than double its manufacturing and assembly capacity, Facort is currently constructing a new building in the Porto area.
The new cooperation with Paletti and its extensive product range offers the opportunity for Facort to increasingly offer system solutions in addition to the production of assemblies – wherever packaging, filling or transport is required. An ideal complement that promises greater customer benefits.
In addition, we are pleased to announce three more new agencies:
Strojotehnika, Croatia and Bosnia-Herzegovina
MPL Automation SRL, Romania and Hungary
Belmet MI, Slovenia

Are you also interested in a PALETTI sales partnership?
Then simply get in touch with:
CARSTEN BRILKA
Business Development
Mobile +49 151 50 94 78 18
E-Mail brilka.carsten@paletti-group.com