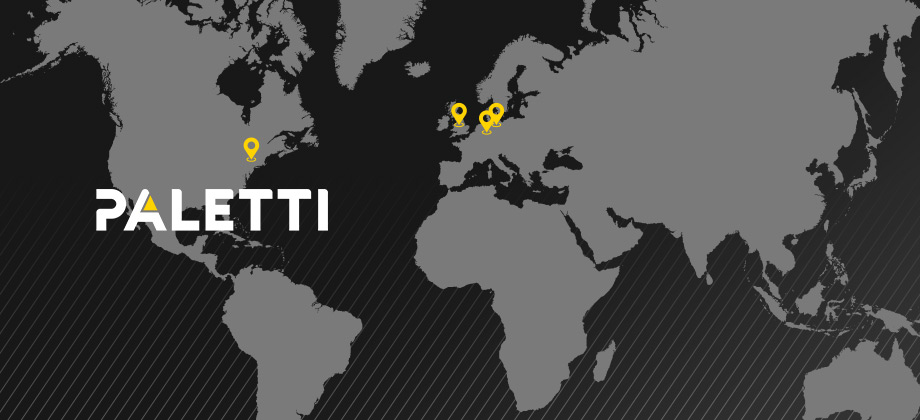 Impetus for growing internationalization
We are looking for system partners and agencies/distributors
As limitless as our range of system solutions, we are also there for our customers. At the moment, we are well positioned for international orders with 19 agencies worldwide. But we want to continue to grow in order to drive internationalization with specialists on site. For this reason, on the one hand, we are looking for competent system partners who control customized special solutions. And on the other hand new agencies, which distribute competently based on our components and assemblies with their sales.
The Paletti sales partners
You can build on Paletti – our sales partners also notice this when they competently sell our components and assemblies with their sales force. Ideally, these representations offer the opportunity to provide their own added value and thus a high level of customer benefit while at the same time being closer to the customer. In addition to first-class products, we offer our sales partners, among other things, sales and marketing support, integration into the new digital sales system for system solutions, and regular market and product exchanges. An absolute win-win situation from which both sides can only benefit.
The Paletti System Partners
Success with system – the Paletti system partners distribute customized special solutions based on Paletti components and parts. They can rely on the proven Paletti components, which they install independently and integrate into an overall solution, relying on Paletti's expertise and support in every case.
Our newest system partners
Combiflex is a production company of the Trapo Group, one of the leading suppliers of turnkey solutions, robotics and conveyor technology in intralogistics. Based on decades of experience, systems made of steel and aluminum are produced here, which are incorporated into the numerous intralogistics projects of the Trapo sales companies. In order to always be able to offer the most economical solutions in the respective projects, Combiflex uses, among other things, the extensive modular system of aluminum construction profiles from Paletti. Paletti's fast availability and high processing depth are further advantages that Combiflex relies on.
"We use the Paletti components many times for fastening purposes, ceiling suspensions and supports," says Wim de Ridder, general manager of Combiflex Produktie & Montage B.V. "And we have never been disappointed so far." BSC Anlagenbau GmbH is a company founded in 2014, which focuses on steel, pipeline and tank construction and in particular on machine and plant assemblies as well as plant revisions and maintenance. BSC Anlagenbau now has around 25 employees and serves customers throughout Europe. Since 2019, BSC Anlagenbau has also been installing partition wall systems for offices and halls and has Paletti profile systems in its portfolio for this purpose. As a system partner of Paletti, the aim is to offer customers innovative operating equipment quickly, economically and "everything from a single source".